DESCRIPTION
ReNTox 100 is a popular product in many countries around the world. Manufactured by a well-known South Korean company (Pharma Research BIO Co., Ltd.). This drug is very popular, it is highly effective at a low cost of drug cost. Rentox, like other Korean botulinum toxins, has been highly appreciated by cosmetologists and patients.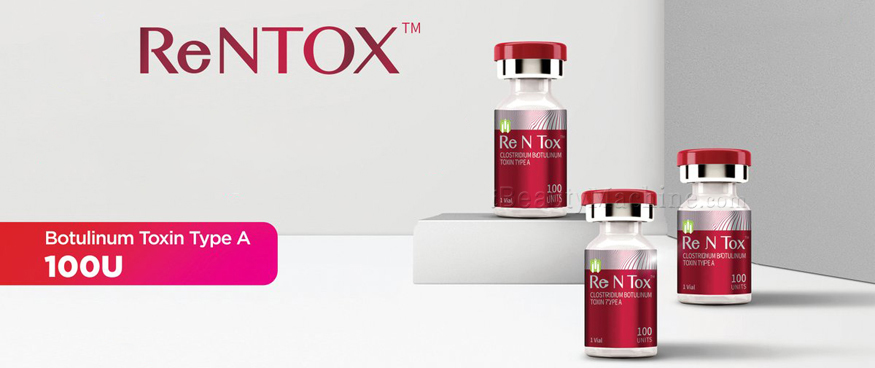 Indications for use:
Botulinum toxin injections are used not only in cosmetology, but also in medicine.
1- The first signs of aging and the appearance of mimic wrinkles.
2- Excessive sweating.
3- Correction of the shape of the lips.
4- Hypotension and skin atony.
5- Thinning and lethargy of the skin.
6- Gravitational ptosis.
7- Post-acne.
8- Prevention and correction of cicatricial changes in the skin.
9- Fine wrinkled type of skin aging.
10- Preparation for plastic surgery.
11- Preparation with medium and deep peels.
Release form: 1 bottle / 100 units. The drug is a lyophilized white powder for injection, in a colorless transparent bottle, when diluted with saline, it is a clear liquid.
Storage conditions: Store between 2 C and 8 C
Expiration date: 36 months from the date of manufacture.
Manufacturer: PharmaResearch BIO Co., Ltd., South Korea.