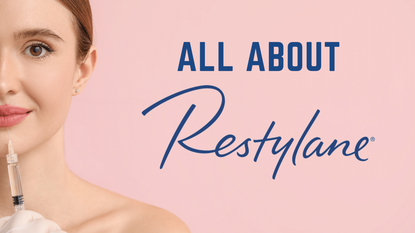 Restylane Lidocaine for decreasing moderate lines and wrinkles, such as those seen between the eyebrows, on the forehead and the bilateral lines between the nose and mouth.
Cross-linked hyaluronic acid 20 mg / ml + lidocaine 0.3%.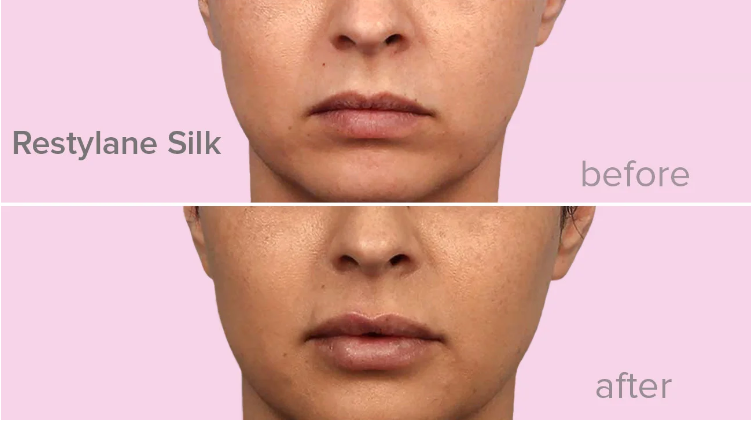 Restylane Lidocaine is a hyaluronic acid-based dermal filler. The Restylane product line acts like the body's own hyaluronic acid and thus restores the volume of the skin.
The skin is remarkable because it protects our body from environmental influences and repairs itself every day. But age, lifestyle, environmental influences such as sun damage, smoking, ... often have a negative impact on the condition of the skin. Restylane Lidocaine restores an improved, fresher complexion: for a youthful appearance and harmonious facial balance.
Restylane injections are a non-invasive method to correct moderate to severe wrinkles. Maintaining adequate levels of hyaluronic acid is important for maintaining the youthful appearance of the face. Hyaluronic acid also helps transport nutrients from the bloodstream to skin cells and bring water to the skin's surface to leave skin appearing revitalized.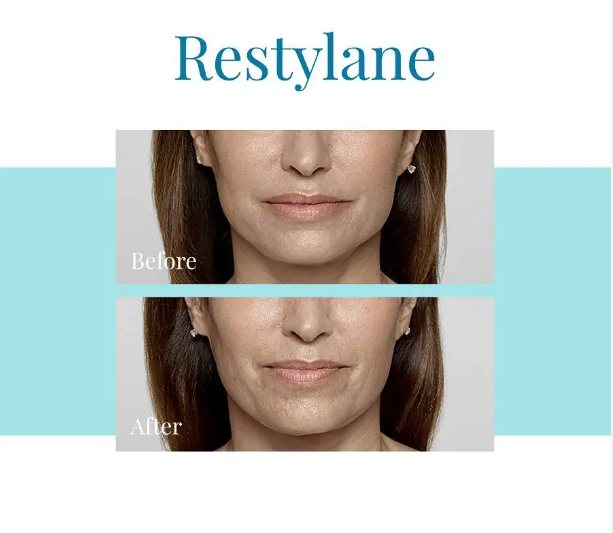 Benefits of Restylane
The Restylane family of fillers has become a go-to for our Buckhead and Alpharetta clients who want to improve their appearance. These fillers are so popular because they offer so many different benefits. They're versatile, they're long-lasting, and they deliver natural-looking results. If you are looking for the right dermal filler to meet your aging or aesthetic needs, you'll find exactly what you're looking for with a filler from this collection.
Highly Effective Ingredients: The Restylane family of dermal fillers contain effective and high-quality ingredients that blend well with the skin's structure and help deliver some incredible anti-aging results for our Buckhead and Alpharetta clients. Each of the formulations in this collection contains a combination of gentle ingredients that won't cause adverse reactions in or on the skin. Instead, they gently and carefully smooth lines and wrinkles from the inside out while maintaining the integrity of your skin.
Hyaluronic Acid-Based Fillers: Restylane fillers are made of a synthetic hyaluronic acid gel formulation that adds volume beneath the skin. Hyaluronic acid is a natural sugar that the body uses to maintain adequate moisture.
Virtually Painless: Even if you're scared of needles, know that you will be able to remain comfortable throughout the entirety of this treatment. Our Buckhead and Alpharetta tell us that Restylane treatments are virtually painless, and the needle used to administer the injections is very thin – so thin that you'll barely feel it. That said, we can always apply a numbing cream to ensure you do not feel the needle in any way. The whole treatment is quick, and you'll be in and out before you know it.
Immediate Results: As soon as you receive your Restylane injections at our Buckhead or Alpharetta location, you'll see the results immediately. Your results will continue to improve with every hour after your treatment, and the best results will appear within two weeks of the treatment process. Your results will look natural, your problem areas will disappear, and you'll feel better about your appearance.
No Downtime: Restylane appointments at our Buckhead and Alpharetta locations are not only quick, but also incredibly convenient. You can schedule an appointment whenever you have a free 30 minutes in your schedule, even during your lunch break at work. You won't have to take off any time from work or plan around downtime once your treatment is over. You can resume your typical daily activities, and aside from following some post-treatment directives, you won't have to spend time resting or recovering.
Long-Lasting Results: Your results will not only be immediate, but they will also continue to improve in the weeks following your injections. What's more, for most of our Buckhead and Alpharetta Restylane clients, results will last anywhere from six months to 12 months.