Indications for treatment
This formula significantly reduces the formation of free radicals, protecting the skin from cell oxidation and oxidative stress. Therefore, it effectively slows down the skin aging process, attenuates fine lines and wrinkles, and evens the skin tone.
Key benefits:
Restructuring
Anti-aging
Free radical scavenger
Balances uneven pigmentation
Prevents cell oxidation
Active ingredients:
Ascorbic Acid, Glutathione, Superoxide dismutase, Lipoic Acid, Hyaluronic Acid
Transcutaneous delivery system. These ingredients are released without damaging the skin in the desired treatment area, without side effects and with fast results. The purity and sterilization of the formulations is a basic rule to avoid a concentration of undesirable ions, and therefore to allow the use of preservatives.
Product pH: 6.0 - 7.0
Osmolarity: 260 - 340 mOsmol/Kg
Description
Restructurer is a product that provides a preventive action on the activity of oxidative factors in the skin by restructuring the skin tissue for a renewed radiance.
This product is composed of ascorbic acid, glutathione, superoxide dismutase, lipoic acid and hyaluronic acid. It is a combination of antioxidant ingredients that protect skin tissue from damage caused by free radicals. Therefore, it effectively slows down the skin aging process, reduces wrinkles and evens skin tone.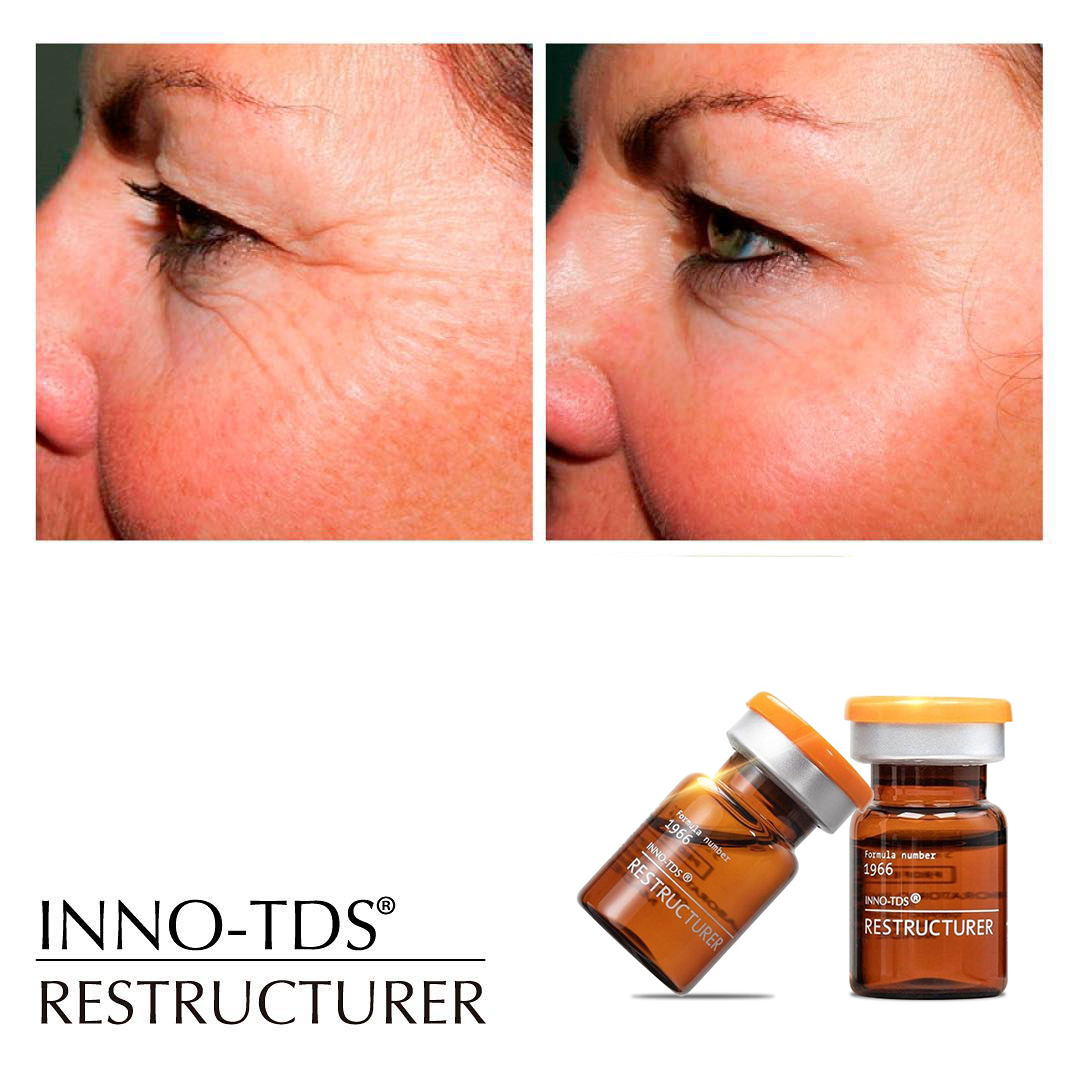 Results
Restructure from Innoaesthetics:
- Prevents skin aging
- Improves hydration
- Helps repair extracellular matrix components
- Protects the skin from cellular oxidation and the formation of free radicals
- Restructures the dermal tissue
- Reduces dark spots and balances uneven pigmentation.
Treatment area
Restructurer from Innoaesthetics is applied to the skin of the face.
Treatment protocol
This product can be administered, according to the decision of the professional, with different existing techniques of the transdermal administration market as non-invasive therapies. It takes a minimum of 4 sessions as well as a time between sessions of one week.