The joint is a part of the connection between the bone and the bone, and its biomechanical function is mainly to bear the different types of load such as compression, traction, shearing and twisting, and provide a certain range of physiological activities for the bone activity. Joint and joint lesions can cause pain.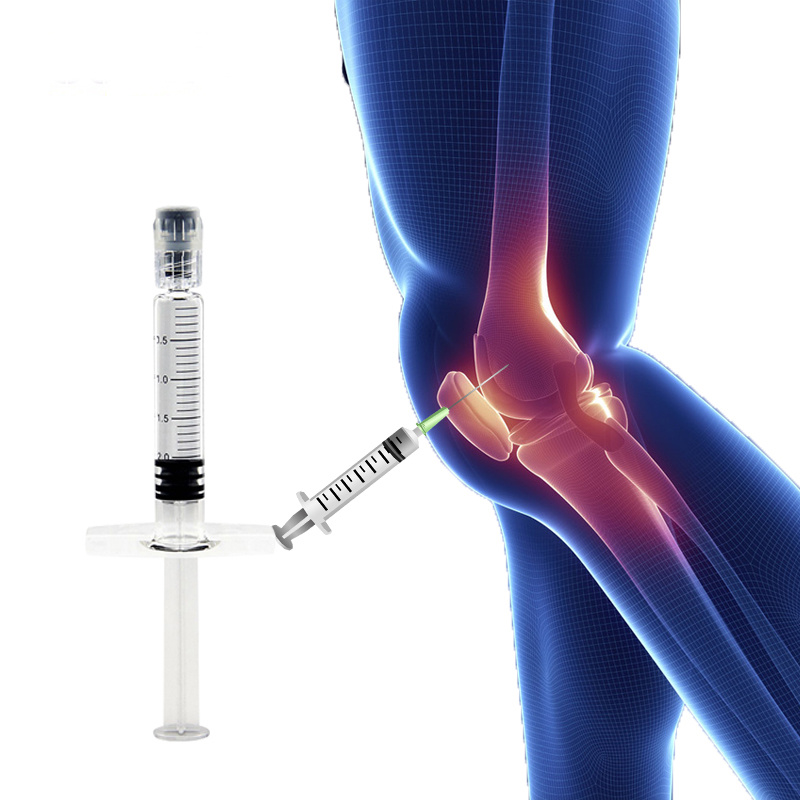 Arthritis often manifested as pain, soft tissue swelling and stiffness, in addition to causing joint damage, but also can cause muscle atrophy around the joints. Joint intracavitary injection therapy is one of the major therapeutic measures to further aggravate joint damage. Joint and joint injection of long-term steroid drugs can effectively relieve arthritis.
Sodium hyaluronate injection has the effect of slowing down the symptoms and improving the condition of osteoarthritis. In addition to injecting drugs, from the joint extraction of periosteal fluid to reduce bone pressure, reduce the "intra-articular swelling syndrome" is also joint and joint injection of peripheral components.
This product is composed by Hyaluronic Sodium and Physiological balance salt, it's kind of sterile, trnsparent and colorless gel, prefilled into syringe.
According to clinical requirement, the standard concentration of hyaluronate sodium is 10mg/ml and 12mg/ml, with molecular weight:1,100,000-2,100,000 Dalton.
It can stimulate its own synovial memberance to produce sodium hyaluronate of high molecular weight,which helps alleviate arthralgia,increase the range of mobility,eliminate synovial inflammation and delay the development of the disease.
1.Overview:
Its macromolecule and good viscoelasticity help lubricate,cover the barrier,buffer stress and inhibit the inflammatory response in the articular cavity.And it can stimulate its own synovial memberance to produce sodium hyaluronate of high molecular weight,which helps alleviate arthralgia,increase the range of mobility,eliminate synovial inflammation and delay the development of the disease.
2. Applications:
Sodium hyaluronate gel is widely used as joint lubrication and for protecting the articular cartilage, Assisting the
treatment of bone joint disease.
1). For Orthopedics surgery: Spread the product with syringe on the tendon nerve, around the nerve root or inject to the joint cavity, 1ml or 2ml each time.
2) For Joint cavity: The injected quantity must be adapted to the type of injection procedures. Once a week, four times for one course of treatme